Examining student achievement and interventions for underprepared vocational math students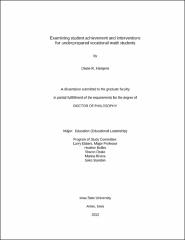 Altmetrics
Department
Educational Leadership and Policy Studies
Abstract
Math preparedness is a barrier to completion for many community college vocational students. With President Obama's (2010) challenge to produce more graduates in order to ensure our nation succeeds in the 21st century, community colleges across the country have an increased focus on graduation or completion. This study was conducted to provide guidance to community college administrators, advisors, and faculty as they assist underprepared vocational math students become successful and graduate.
This study examined the characteristics of vocational math students who scored as underprepared on a college entrance examination for arithmetic as determined by the community college in this study. These underprepared vocational math students were then categorized into three levels of preparedness based on their entrance exam score and into career cluster areas based on their declared major. Analyses were conducted to examine the differences in the academic success among the three groups of students determined by level of math deficiency and among the career cluster groups based on majors.
Finally, this study investigated to what extent the success of underprepared vocational math students could be predicted by student characteristics such as age, gender, socioeconomic status, level of deficiency in math preparedness as well as interventions such as successfully completing a developmental math course, utilizing tutoring services, utilizing computer-aided math software, and participation in a consistent student support program.
Using an ex post facto quantitative research design and data from underprepared vocational math students enrolled in a midwestern community college from 2007-2012, this study employed descriptive statistics, analysis of variance, multinomial and binomial hierarchical logistic regression analyses.
Subject Categories
Copyright
Tue Jan 01 00:00:00 UTC 2013
Collections