Why is College so Expensive?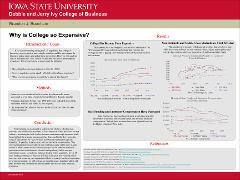 Series
Honors Projects and Posters
The Honors project is potentially the most valuable component of an Honors education. Typically Honors students choose to do their projects in their area of study, but some will pick a topic of interest unrelated to their major.
The Honors Program requires that the project be presented at a poster presentation event. Poster presentations are held each semester. Most students present during their senior year, but may do so earlier if their honors project has been completed.
This site presents project descriptions and selected posters for Honors projects completed since the Fall 2015 semester.
Abstract
Iowa public university tuition prices have been rising over the past few decades which has made education unattainable for those unable to afford the large price tags. The financial statements of the three Iowa public universities from 1990-2018 were analyzed. Our research found that yearly tuition and fees for an undergraduate resident, when adjusted for inflation, have increased by about $5,100 – $5,850 since 1990 and the undergraduate non-resident yearly tuition and fees increase has been around $10,100 -$20,500 depending on the university. ISU and U of I have much lower state appropriations funding on a per enrolled student than their 1990 inflation adjusted amounts; however, UNI's state funding has remained relatively unchanged. Inversely, increased scholarship spending has decreased "true" tuition for the students that receive these funds (largely those with financial need). Additionally, instructor compensation per enrolled student has decreased significantly which, if instructors feel underpaid, could affect our faculty retention numbers and national rankings. This increasing tuition price trend and decreasing instructor compensation could negatively impact the future economic prospects of the state of Iowa and its residents.
Collections