Determination of stimulation focality in heterogeneous head models during transcranial magnetic stimulation (TMS)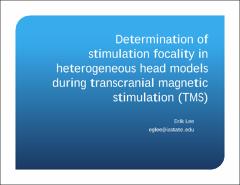 Series
Symposium on Undergraduate Research and Creative Expression
The Symposium provides undergraduates from all academic disciplines with an opportunity to share their research with the university community and other guests through conference-style oral presentations. The Symposium represents part of a larger effort of Iowa State University to enhance, support, and celebrate undergraduate research activity.
Though coordinated by the University Honors Program, all undergraduate students are eligible and encouraged to participate in the Symposium. Undergraduates conducting research but not yet ready to present their work are encouraged to attend the Symposium to learn about the presentation process and students not currently involved in research are encouraged to attend the Symposium to learn about the broad range of undergraduate research activities that are taking place at ISU.
The first Symposium was held in April 2007. The 39 students who presented research and their mentors collectively represented all of ISU's Colleges: Agriculture and Life Sciences, Business, Design, Engineering, Human Sciences, Liberal Arts and Sciences, Veterinary Medicine, and the Graduate College. The event has grown to regularly include more than 100 students presenting on topics that span the broad range of disciplines studied at ISU.
Department
Electrical and Computer Engineering
Abstract
Transcranial Magnetic Stimulation (TMS) is an increasingly popular tool used by both the academic and medical community to understand and treat the brain. TMS has the potential to help people with a wide range of diseases such as Parkinson's, Alzheimer's, and PTSD, while currently being used to treat people with chronic, drug-resistant depression. Through computer simulations, we are able to see the electric field that TMS induces in anatomically realistic human head models but there is no quantifying method to analyze this electric field in a way that relates to a specific patient undergoing TMS therapy. We propose a way to quantify the focality of the induced electric field in a heterogeneous head model during TMS by relating the surface area of the brain being stimulated to the total volume of the brain being stimulated. This figure would be obtained by conducting finite element analysis (FEA) simulations of TMS therapy on a patient specific head model. Using this figure of merit to assist in TMS therapy will allow clinicians and researchers to more accurately stimulate the desired region of a patient's brain and be more equipped to do comparative studies on the effects of TMS across different patients.
Subject Categories
Collections