Steer and heifer beef II.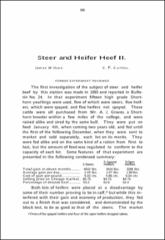 Department
Extension and Experiment Station Publications
Abstract
The first investigation of the subject of steer and heifer beef by this station was made in 1893 and reported in Bulletin No. 24. In that experiment fifteen high grade Shorthorn yearlings were used, five of which were steers, five heifers, which were spayed, and five heifers not spayed. These cattle were all purchased from Mr. A. J. Graves, a Shorthorn breeder within a few miles of the college, and were raised alike and sired by the same bull. They were put on feed January 4th, when coming two years old, and fed until the first of the following December, when they were sent to market and sold separately, each lot on its merits. They were fed alike and on the same kind of a ration from first to last, but the amount of feed was regulated to conform to the capacity of each lot.
Subject Categories
Collections