Certification and Source Verification in the Grain Handling Industry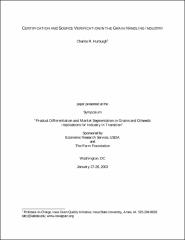 Department
Agricultural and Biosystems Engineering
Abstract
Source verification (lot identity) is the ability to trace products from their initial components through a production and distribution system to an end user. Source verification is a documentation process that may also require product testing, special logistics, or other actions. Formal certification and audit is generally required. Grain markets have traditionally handled interchangeable average quality commodities. Biotechnology, safety/security concerns, and new consumer perceptions are converging to create a grain market need for source verification and the associated quality management certification systems.
Iowa State has assisted a large grain firm with the application of quality management systems, product tracing, and implementation of related statistical process controls. The grain firm has already achieved certification by an industry quality system and is moving to ISO 9000 (2000). A major goal is the ability to track product completely for individual production unit to user—a challenge for the grain firm handling bulk commodities. However, the act of creating the quality management system generated significant operating cost efficiencies applicable to its general commodity business. This presentation uses the case study of the grain elevator to illustrate the needs, actions, and challenges of introducing source verification and certification to the grain market. Data from other elevator studies is used to illustrate program costs.
Source verification and certification will change the mindset of agricultural businesses. In addition to providing security for very specialized products with restricted markets, this effort will reduce operating costs because a rigorous study of work processes is required for implementation. The conversion of commodity markets to product markets will improve profitability and efficiency of market participants. The tolerance for purity in both specialty and commodity markets will determine the actual costs associated with the programs.
Subject Categories
Collections