Examining the Complexities of Urban Water and Sanitation in Latin America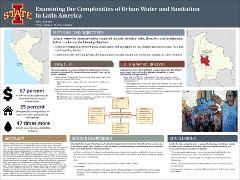 Series
Honors Projects and Posters
The Honors project is potentially the most valuable component of an Honors education. Typically Honors students choose to do their projects in their area of study, but some will pick a topic of interest unrelated to their major.
The Honors Program requires that the project be presented at a poster presentation event. Poster presentations are held each semester. Most students present during their senior year, but may do so earlier if their honors project has been completed.
This site presents project descriptions and selected posters for Honors projects completed since the Fall 2015 semester.
Department
Community and Regional Planning
Abstract
Climate change continues to exacerbate water and sanitation issues in Latin America, as water scarcity and natural disasters threaten water supply and infrastructure. My research explores the role that gender dimension plays in urban water and sanitation projects in Latin America, and examines strategies used to improve urban water and sanitation for low-income dwellers in Lima, Peru and Cochabamba, Bolivia. Both objectives were accomplished based on an extensive literature review. I argue that gender specific data is vital to collect, in that women face significant disparities in treatment and exclusion from policy. I also examined the sustainable solutions introduced by Lima, Peru and Cochabamba, Bolivia, that address severe water shortages, inadequate facilities and ineffective governance. These case studies were analyzed using Gordon McGranahan's Framework of Challenges describing incentive barriers facing community driven initiatives. This paper exemplifies aspects of lucrative progress from these case studies to identify solutions that can be emulated by other cities. If other cities wish to scale up the findings of my research, some recommendations follow: utilize workshops and collaborative dialogue with citizens who may be affected by projects, collect climate, population and demographic data to observe future trends and finally, prioritize climate change mitigation as soon as possible.
Subject Categories
Collections