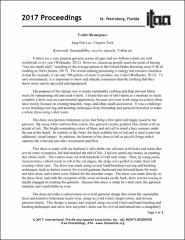 Series
International Textile and Apparel Association (ITAA) Annual Conference Proceedings
The first national meeting of textile and clothing professors took place in Madison, Wisconsin in June 1959. With a mission to advance excellence in education, scholarship and innovation, and their global applications, the International Textile and Apparel Association (ITAA) is a professional and educational association of scholars, educators, and students in the textile, apparel, and merchandising disciplines in higher education.
This site provides free, public access to the ITAA annual conference proceedings beginning in 2015. Previous proceedings can be found by following the "Additional ITAA Proceedings" link on the left sidebar of this page.
Abstract
The purpose of this design was to create sustainable clothing and help prevent fabric waste by repurposing old and used t-shirts. The dress incorporates bohemian styles that bring a free spirit and happy mood to the garment. This dress is made with my husband's old t-shirts; the old ones with holes and stains that served years of purpose, but had reached the end of life. The t-shirts were cut with hundreds of stripes. Then, the dress was made using several hand weaving and knotting techniques, such as basket weaves for overall garment, backward and forward knots for waist and hem areas, and a three color fishtail for the shoulder straps. The dress was made directly on the dress form, and with the exception of the sown on hooks on the back, there was no sewing or needle engaged in creating the garment.
Collections