Insecticidal components in the meal of Crambe abyssinica.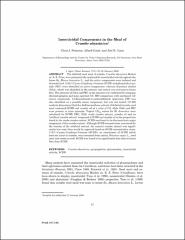 Abstract
The defatted seed meal of C. abyssinica was systematically analysed for insecticidal activity against Musca domestica and the active components were isolated and characterized. 2-(S)-1-Cyano-2-hydroxy-3-butene (SCHB) and phenylethyl cyanide (PEC) were identified as active components, whereas diacetone alcohol (DAA), which was identified in the extracts and tested, was not toxic to house flies. The presence of DAA and PEC in the extracts was confirmed by using gas chromatographic and mass-spectral (GC-MS) comparison with purchased reference compounds. 1,3-Benzodioxole-5-carboxaldehyde (piperonal, PIP) was also identified as a possible minor component, but was not tested. GC-MS analysis determined that the dichloromethane extract of defatted crambe seed meal contained SCHB and crambe oil at a ratio of 5:2, while DAA and PEC were present in trace amounts. Topical LD50values for M. domestica were calculated for SCHB, PEC, DAA, crude crambe extract, crambe oil and an "artificial crambe extract" composed of SCHB and crambe oil in the proportions found in the crude crambe extract. SCHB was found to be the most toxic major component of the crambe extract. Although SCHB concentration accounted for the toxicity of the artificial extract, the natural crambe extract was significantly less toxic than would be expected based on SCHB concentration alone. 2-(R)-1-Cyano-2-hydroxy-3-butene (RCHB), an enantiomer of SCHB which does not occur in crambe, was extracted from Brassica napus seed meal and tested as well. RCHB was found to be significantly less toxic to house flies than SCHB.
Comments
This article is from Journal of Agricultural and Urban Entomology, 2000, 17(1); 27-36. Posted with permission.
Subject Categories
Copyright
Sat Jan 01 00:00:00 UTC 2000
Collections