Post-Modern Korean Wedding Dress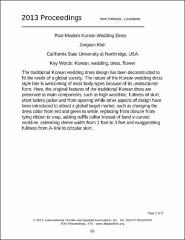 Series
International Textile and Apparel Association (ITAA) Annual Conference Proceedings
The first national meeting of textile and clothing professors took place in Madison, Wisconsin in June 1959. With a mission to advance excellence in education, scholarship and innovation, and their global applications, the International Textile and Apparel Association (ITAA) is a professional and educational association of scholars, educators, and students in the textile, apparel, and merchandising disciplines in higher education.
This site provides free, public access to the ITAA annual conference proceedings beginning in 2015. Previous proceedings can be found by following the "Additional ITAA Proceedings" link on the left sidebar of this page.
Abstract
The traditional Korean wedding dress design has been deconstructed to fit the needs of a global society. The nature of the Korean wedding dress style line is welcoming of most body types because of its unstructured form. Here, the original features of the traditional Korean dress are preserved as main components, such as high waistline, fullness of skirt, short bolero jacket and front opening while other aspects of design have been introduced to attract a global target market, such as changing the dress color from red and green to white, replacing front closure from tying ribbon to snap, adding ruffle collar instead of band v-curved neckline, extending sleeve width from 1 foot to 3 feet and exaggerating fullness from A-line to circular skirt.
Subject Categories
Collections