Field Experiments with an Air-Curtain Flame Weeder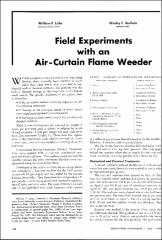 Department
Agricultural and Biosystems Engineering
Abstract
While attempts to control weeds in row crops using flaming alone normally have resulted m lower yields than when weeds were controlled by mechanical and/ or chemical methods, this probably was due both to thermal damage to the crops and to inadequate weed control. The specific objectives of this project were to determine:
• If the air-curtain method of flaming improves on previous flaming techniques
• If flaming as the principal means of weed control needs supplementary weed control measures
• If flaming gives better weed control than conventional chemical methods.
Comments
This article is published as Lalor, W. F., and W. F. Buchele. "Field experiments with an air-curtain flame weeder." Agricultural Engineering 50, no. 6 (1969): 358.
Subject Categories
Copyright
Wed Jan 01 00:00:00 UTC 1969
Collections