What's Your Radiographic Diagnosis?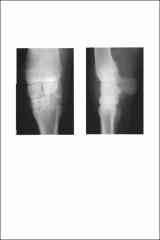 Department
Iowa State University Digital Repository
Abstract
A 4-year-old, Quarterhorse, gelding was referred for evaluation of a swelling on the palmar side of the left carpus. The swelling had been present for 6 months. Previous aspiration and drainage of the swelling yielded clear fluid. A recurrence of the swelling initiated the referral to Iowa State University Veterinary Teaching Hospital.
Subject Categories
Collections