Comparison of Accounting Electives to Real-World Counterparts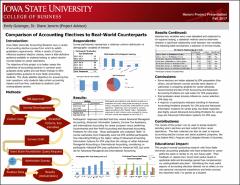 Series
Honors Projects and Posters
The Honors project is potentially the most valuable component of an Honors education. Typically Honors students choose to do their projects in their area of study, but some will pick a topic of interest unrelated to their major.
The Honors Program requires that the project be presented at a poster presentation event. Poster presentations are held each semester. Most students present during their senior year, but may do so earlier if their honors project has been completed.
This site presents project descriptions and selected posters for Honors projects completed since the Fall 2015 semester.
Abstract
Iowa State University Accounting students have a variety of accounting elective courses from which to choose to satisfy elective requirements. While a variety of factors influence which accounting electives students choose, there is little definitive guidance available to current students looking to select accounting electives based on career aspirations. This study assesses the usefulness of Iowa State University's accounting electives in common post-graduate career paths so students can make better-informed academic decisions. 166 Iowa State accounting graduates participated in a survey asking them to confidentially share post-graduate career details and evaluate aspects of Iowa State's accounting elective courses most useful in their careers. The results of the study revealed some electives are better adapted to CPA preparation than others, but all elective courses provide some degree of usefulness in preparing students for any career demands. Major trends identified include strong preferences for graduates employed in public accounting to enroll in ACCT 488 and ACCT 495, and for graduates employed in the private sector to enroll in ACCT 483. Survey participants indicated usefulness of ACCT 495 for career preparation and ACCT 384 for CPA preparation, although students enroll in these courses for other reasons than their usefulness indicated by the survey.
Subject Categories
Collections