Finer, Better Lime, Please!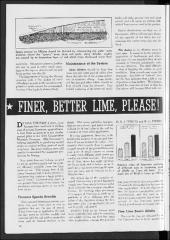 Department
Extension and Experiment Station Publications
Abstract
During the past 4 years, Iowa farmers have used over 5 million tons of ground limestone, approximately four times as much as in any similar period prior to the AAA Conservation Materials Program. This limestone is helping materially in producing record crops on several million acres of good crop land. But many million acres still need to be mobilized for maximum production by liming.
Subject Categories
Collections