When are Livestock Exchanges "Like-Kind"?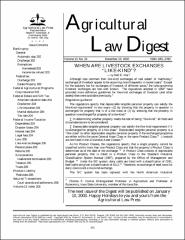 Department
Iowa State University Digital Repository
Abstract
Although less common than like-kind exchanges of real estate or machinery, exchanges of livestock appear to be occurring more frequently in recent years. Except for the statutory bar for exchanges of livestock of different sexes, the rules governing livestock exchanges are less well known. The regulations adopted in 1991 have provided more definitive guidelines for like-kind exchanges of livestock (and other assets) than were available previously.
Subject Categories
Collections