Using Personal Mission Statements and Codes of Ethics as Career Search Tools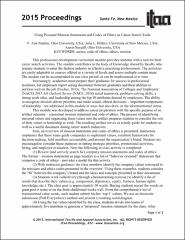 Series
International Textile and Apparel Association (ITAA) Annual Conference Proceedings
The first national meeting of textile and clothing professors took place in Madison, Wisconsin in June 1959. With a mission to advance excellence in education, scholarship and innovation, and their global applications, the International Textile and Apparel Association (ITAA) is a professional and educational association of scholars, educators, and students in the textile, apparel, and merchandising disciplines in higher education.
This site provides free, public access to the ITAA annual conference proceedings beginning in 2015. Previous proceedings can be found by following the "Additional ITAA Proceedings" link on the left sidebar of this page.
Abstract
This module was developed to address career preparation with the specific purpose of an artifact outcome – a personal mission statement and code of ethics. The process of identifying personal values and organizing these values into the artifact prepares students to consider the role of their values in leadership at work. The resulting artifact serves as a daily guide for students as well as a useful document during career search endeavors.
Collections