Leak Location in Plates Using Spatial Fourier Transform Based Analysis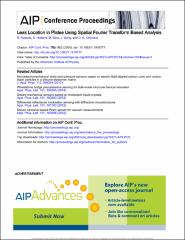 Abstract
The location of air leaks in plate‐like structures is examined using a spatial Fourier transform based analysis. Noise data is collected over 2‐D spatial arrays at sensor locations, from which mean cross‐correlations are compiled. Propagation properties, transit times, and energy distribution among modes are extracted through spatial Fourier transformation of these data. A simple algorithm to determine source location using a reduced set of transform data is demonstrated experimentally, based upon extraction of energy propagation direction.
Comments
Copyright 2005 American Institute of Physics. This article may be downloaded for personal use only. Any other use requires prior permission of the author and the American Institute of Physics.
This article appeared in AIP Conference Proceedings, 760 (2005): 962–969 and may be found at http://dx.doi.org/10.1063/1.1916777.
Subject Categories
Copyright
Sat Jan 01 00:00:00 UTC 2005
Collections