Enhancing African American Youth Academic Success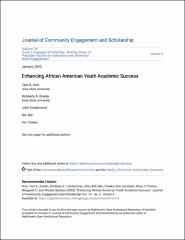 Publisher
Journal of Community Engagement and Scholarship by an authorized editor of Nighthawks Open Institutional Repository.
Department
Human Development and Family Studies
Abstract
In the state of Iowa, persistent disparities exist between the academic performance of African American youth and the overall student population. Communities in Iowa thus have a critical opportunity to promote academic success among African American youth. With the goal of addressing these disparities in education, we evaluated how best to collaborate with African American residents to build upon the strengths of families and to create new initiatives or modify existing programs to improve educational success. Community leaders, Iowa State University faculty, and university Extension and Outreach staff recruited 45 parents raising African American youth as well as experienced African American educators living in the community. These individuals participated in a series of study circles and action forums and shared their experiences and recommendations for strengthening educational programming for African American youth in the county. Their guidance informed program content, delivery approaches, implementation strategies, and outreach to the African American community in Iowa. Findings may be transferable to other contexts.
Comments
This article is published as Hurt, Tera R.; Greder, Kimberly A.; Cardamone, John; Bell, Ben; Cheeks, Kim; Gonzalez, Rosa; O'Connor, Margaret C.; and Woods, Barbara (2022) "Enhancing African American Youth Academic Success," Journal of Community Engagement and Scholarship: Vol. 14(3) Article 4. https://digitalcommons.northgeorgia.edu/jces/vol14/iss3/4. Posted with permission **This work is licensed under a Creative Commons Attribution 4.0 International License**
Collections