South Korean Fashion designers' decision-making process: The influence of cultural values and personal experience in the creative process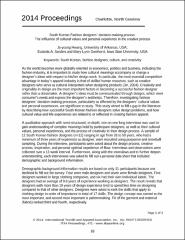 Series
International Textile and Apparel Association (ITAA) Annual Conference Proceedings
The first national meeting of textile and clothing professors took place in Madison, Wisconsin in June 1959. With a mission to advance excellence in education, scholarship and innovation, and their global applications, the International Textile and Apparel Association (ITAA) is a professional and educational association of scholars, educators, and students in the textile, apparel, and merchandising disciplines in higher education.
This site provides free, public access to the ITAA annual conference proceedings beginning in 2015. Previous proceedings can be found by following the "Additional ITAA Proceedings" link on the left sidebar of this page.
Abstract
As the world becomes more globally oriented in economics, politics and business, including the fashion industry, it is important to study how cultural meanings accompany or change a designer's ideas with respect to his/her design work. In particular, the most essential competitive advantage in today's apparel industry is that of skilled human resources, such as creative designers who serve as cultural interpreters when designing products (Jin, 2004).
Subject Categories
Collections