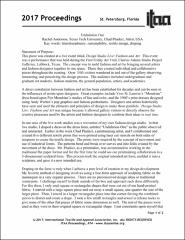 Series
International Textile and Apparel Association (ITAA) Annual Conference Proceedings
The first national meeting of textile and clothing professors took place in Madison, Wisconsin in June 1959. With a mission to advance excellence in education, scholarship and innovation, and their global applications, the International Textile and Apparel Association (ITAA) is a professional and educational association of scholars, educators, and students in the textile, apparel, and merchandising disciplines in higher education.
This site provides free, public access to the ITAA annual conference proceedings beginning in 2015. Previous proceedings can be found by following the "Additional ITAA Proceedings" link on the left sidebar of this page.
Abstract
This piece was created at a live event titled, Design Studio Live: Fashion and Art. This event was a performance that was held during the First Friday Art Trail, Charles Adams Studio Project Galleries, Lubbock, Texas. The concept was to meld fashion and art by bringing several artists and fashion designers together in one space. There they created individual and collaborative pieces throughout the evening. Over 1500 visitors wandered in and out of the gallery observing, interacting, and perceiving the design process. The audience included undergraduate and graduate art students, fashion students, the general population, artists, and academics. The concept of the dress involves a hand printed textile collaboration with printmaking artist, Chad Plunket and use of innovative and sustainable draping practices.
Subject Categories
Collections