Fresh cow vs. stripper butter.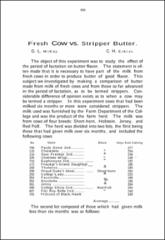 Department
Extension and Experiment Station Publications
Abstract
The object of this experiment was to study the effect of the period of lactation on butter flavor. The statement is often made that it is necessary to have part of the milk from fresh cows in order to produce butter of good flavor. This subject we investigated by making a comparison of butter made from milk of fresh cows and from those so far advanced in the period of lactation, as to be termed strippers. Considerable difference of opinion exists as to when a cow may be termed a stripper. In this experiment cows that had been milked six months or more were considered strippers. The milk used was furnished by the Farm Department of the College and was the product of the farm herd. The milk was from cows of four breeds: Short-horn, Holstein, Jersey, and Red Poll.
Subject Categories
Collections