New Ways to Prepare Corn Ground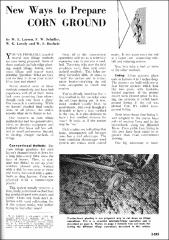 Department
Agricultural and Biosystems Engineering
Abstract
You've probably heard of several new tillage methods for corn being proposed. Some of these methods include ridge planting, mulch tillage, listing, minimum tillage and tractor track planting. Question: What are they and do they fit in on your farm? If so, how and where?
We've studied some of these methods extensively and have had experience with all of them. Some look more promising than others, though each may have a place. Our research is continuing. While we haven't reached final conclusions on all phases, this article reports what we've found so far.
Comments
This article is published as Larson, W. E., F. W. Shaller, W. G. Lovely, and W. F. Buchele. "New ways to prepare corn ground." Iowa Farm Science 10 (1956): 3-6, FS-653.
Subject Categories
Collections