Dealing with Sulfur Deficiencies in Crop Production: the Iowa Experience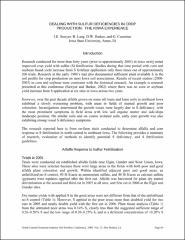 Abstract
Research conducted for more than forty years (prior to approximately 2005) in Iowa rarely noted improved crop yield with sulfur (S) fertilization. Studies during that time period with corn and soybean found yield increase from S fertilizer application only three times out of approximately 200 trials. Research in the early 1980's had also documented sufficient plant available S in the soil profile for crop production on most Iowa soil associations. Results of recent studies (2000- 2005) in corn and soybean were consistent with the historical research. An example is research presented at this conference (Sawyer and Barker, 2002) where there was no corn or soybean yield increase from S application at six sites in Iowa across two years.
However, over the past decade alfalfa grown on some silt loam and loam soils in northeast Iowa exhibited a slowly worsening problem, with areas in fields of stunted growth and poor coloration. Investigations determined the growth issues were largely due to S deficiency, with the most prominent symptoms in field areas with low soil organic matter and side-slope landscape position. On similar soils and on coarse textured soils, early corn growth was also exhibiting strong visual S deficiency symptoms.
The research reported here is from on-farm trials conducted to determine alfalfa and corn response to S fertilization in north-central to northeast Iowa. The following provides a summary of research, evaluation of methods to identify potential S deficiency, and S fertilization guidelines.
Comments
This is a proceeding from Thirty-Ninth North Central Extension-Industry Soil Fertility Conference 25 (2009): 64. Posted with permission.
Subject Categories
Copyright
Thu Jan 01 00:00:00 UTC 2009
Collections