Small Retail Businesses' Varied Perceptions of Market Competition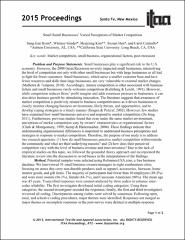 Series
International Textile and Apparel Association (ITAA) Annual Conference Proceedings
The first national meeting of textile and clothing professors took place in Madison, Wisconsin in June 1959. With a mission to advance excellence in education, scholarship and innovation, and their global applications, the International Textile and Apparel Association (ITAA) is a professional and educational association of scholars, educators, and students in the textile, apparel, and merchandising disciplines in higher education.
This site provides free, public access to the ITAA annual conference proceedings beginning in 2015. Previous proceedings can be found by following the "Additional ITAA Proceedings" link on the left sidebar of this page.
Abstract
This study aimed to investigate: (1) how small businesses perceive market competition within/outside the community and what their underlying reasons are; and (2) how their perceived competition varies with the level of business revenue and innovativeness. Potential samples were selected using ReferenceUSA.com. We interviewed 51 small business owners/managers in eight southeastern cities, focusing on stores that carry non-durable products (e.g., fashion goods). This study found that 45% of participants expressed increasing competitive pressures and threats, whereas 55% did not feel competition. Multiple-response crosstab analysis showed that the majority (73%) of the businesses with higher revenue did not feel competition, whereas the businesses with lower revenue had a split view on perceived competition. This study revealed that small businesses might not fully understand or recognize the nature of post-recession competition or thoroughly scan their external business environment. Small businesses must specify their strongest competition and broaden perceptions of potential competitors.
Subject Categories
Collections