Identification of Mycoplasma spp. using MALDI-TOF mass spectrometry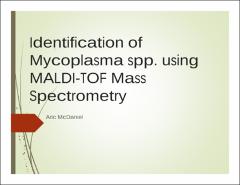 Series
Symposium on Undergraduate Research and Creative Expression
The Symposium provides undergraduates from all academic disciplines with an opportunity to share their research with the university community and other guests through conference-style oral presentations. The Symposium represents part of a larger effort of Iowa State University to enhance, support, and celebrate undergraduate research activity.
Though coordinated by the University Honors Program, all undergraduate students are eligible and encouraged to participate in the Symposium. Undergraduates conducting research but not yet ready to present their work are encouraged to attend the Symposium to learn about the presentation process and students not currently involved in research are encouraged to attend the Symposium to learn about the broad range of undergraduate research activities that are taking place at ISU.
The first Symposium was held in April 2007. The 39 students who presented research and their mentors collectively represented all of ISU's Colleges: Agriculture and Life Sciences, Business, Design, Engineering, Human Sciences, Liberal Arts and Sciences, Veterinary Medicine, and the Graduate College. The event has grown to regularly include more than 100 students presenting on topics that span the broad range of disciplines studied at ISU.
Department
Veterinary Diagnostic Laboratory
Abstract
Mycoplasma spp. cause a variety of diseases in cattle including pneumonia, arthritis, and mastitis. Mycoplasma bovis, the most pathogenic species in cattle, has been shown to be accurately identified using Matrix-assisted laser desorption/ionization time-of-flight (MALDI-TOF) mass spectrometry. After confirming the identity of 13 Mycoplasma standard organisms, 35 Mycoplasma case isolates were run through MALDI-TOF. Of the 35 isolates, 13 had no reliable identification (NRID), 12 identified as M. bovis, and 9 identified as a non-M. bovis species. All 12 isolates identified as M. bovis were confirmed by an M. bovis-specific PCR, and 7 of the non-M. bovis isolates were confirmed M. bovis negative by the same M. bovis-specific PCR. It was concluded that with the current MALDI-TOF library, non-M. bovis isolates can be identified accurately 78% of the time. This useful tool will not only give results up to a week sooner than the current protocols, but will also reduce costs to the clients by up to $30 per isolate.
Collections