A Longitudinal Analysis of E-Service Attributes Available on Apparel E-Retailing Sites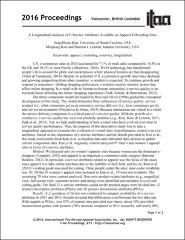 Series
International Textile and Apparel Association (ITAA) Annual Conference Proceedings
The first national meeting of textile and clothing professors took place in Madison, Wisconsin in June 1959. With a mission to advance excellence in education, scholarship and innovation, and their global applications, the International Textile and Apparel Association (ITAA) is a professional and educational association of scholars, educators, and students in the textile, apparel, and merchandising disciplines in higher education.
This site provides free, public access to the ITAA annual conference proceedings beginning in 2015. Previous proceedings can be found by following the "Additional ITAA Proceedings" link on the left sidebar of this page.
Abstract
The purpose of this study is to take a longitudinal approach to examine the evolution of e-retail sites in performance related e-service attributes. The three-component model developed by Rust and Oliver (1994) guided the conceptual development of this study. This study focused on e-service attributes available on women's apparel sites. A χ2 goodness of fit test was conducted to compare availability of e-service attributes in 2011 and 2016. Findings show that current apparel websites provide more service attributes related to products on their websites than in the past, but still not at a satisfactory level. Current apparel sites still failed to provide important information needed when purchasing apparel online. Current online apparel retailers need to give attention to service attributes on their websites to enhance service quality, improve the shopping experience, and increase consumer satisfaction.
Subject Categories
Collections