Role of the physical environment in creating an academic major brand image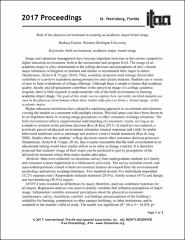 Series
International Textile and Apparel Association (ITAA) Annual Conference Proceedings
The first national meeting of textile and clothing professors took place in Madison, Wisconsin in June 1959. With a mission to advance excellence in education, scholarship and innovation, and their global applications, the International Textile and Apparel Association (ITAA) is a professional and educational association of scholars, educators, and students in the textile, apparel, and merchandising disciplines in higher education.
This site provides free, public access to the ITAA annual conference proceedings beginning in 2015. Previous proceedings can be found by following the "Additional ITAA Proceedings" link on the left sidebar of this page.
Abstract
The image of an academic major is a key determinant in the college decision and perceptions of one's chosen major influences willingness of students and alumni to recommend their major to others. Students use a variety of cues to form evaluations of college offerings, including cues from the built environment. This study explored how students use physical cues in the environment where their studies take place to form a 'brand image' of the academic major. Two hundred seventy five currently enrolled students in a family and consumer science program were surveyed to assess the influence of physical cues on academic major reputation. Results suggest that cues in the built environment may influence the perceptions and representations that students construct about the major, suggesting that attention to physical spaces is important as academic programs develop and execute strategic plans to attract and retain students.
Subject Categories
Collections