Conceptualizing fashion entrepreneurship self-efficacy: A qualitative inquiry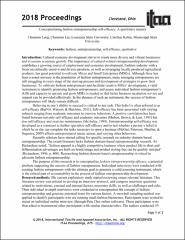 Series
International Textile and Apparel Association (ITAA) Annual Conference Proceedings
The first national meeting of textile and clothing professors took place in Madison, Wisconsin in June 1959. With a mission to advance excellence in education, scholarship and innovation, and their global applications, the International Textile and Apparel Association (ITAA) is a professional and educational association of scholars, educators, and students in the textile, apparel, and merchandising disciplines in higher education.
This site provides free, public access to the ITAA annual conference proceedings beginning in 2015. Previous proceedings can be found by following the "Additional ITAA Proceedings" link on the left sidebar of this page.
Abstract
To cultivate fashion entrepreneurs and facilitate creative MSEs' development, a valid instrument to identify promising fashion entrepreneurs, and assess individual fashion entrepreneur's skills and capacity to operate and grow MSEs is needed so that better business incubation service and support can be provided effectively. In the absence of such an instrument, the success of fashion entrepreneurs will likely remain difficult.The purpose of this research is to conceptualize fashion entrepreneurship efficacy, a potential attribute supporting the success of fashion entrepreneurs. Individual interviews were conducted with existing fashion entrepreneurs with the ultimate goal to generate a valid assessing instrument, which is the critical part of accountability in the process of fashion entrepreneurship development.
Subject Categories
Collections