Developing the CRISPR Interference System to Understand Bacterial Gene Function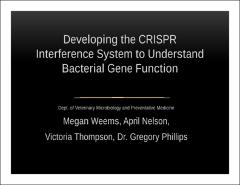 Series
Symposium on Undergraduate Research and Creative Expression
The Symposium provides undergraduates from all academic disciplines with an opportunity to share their research with the university community and other guests through conference-style oral presentations. The Symposium represents part of a larger effort of Iowa State University to enhance, support, and celebrate undergraduate research activity.
Though coordinated by the University Honors Program, all undergraduate students are eligible and encouraged to participate in the Symposium. Undergraduates conducting research but not yet ready to present their work are encouraged to attend the Symposium to learn about the presentation process and students not currently involved in research are encouraged to attend the Symposium to learn about the broad range of undergraduate research activities that are taking place at ISU.
The first Symposium was held in April 2007. The 39 students who presented research and their mentors collectively represented all of ISU's Colleges: Agriculture and Life Sciences, Business, Design, Engineering, Human Sciences, Liberal Arts and Sciences, Veterinary Medicine, and the Graduate College. The event has grown to regularly include more than 100 students presenting on topics that span the broad range of disciplines studied at ISU.
Department
Veterinary Microbiology and Preventive Medicine
Abstract
Gene function in bacteria is typically studied by isolation and characterization of mutants with loss of gene function. Since isolation or construction of specific mutants can be problematic when studying multiple genes with redundant function or bacteria with poorly developed genetic systems, we have developed an alternative genetic approach to study gene function. For this, we have exploited the observation that CRISPR (clustered regularly interspaced short palindromic repeats), which normally serves to protect bacterial cells against transfer of foreign DNA, has been modified as a gene silencing system. We have improved the use of a mutationally altered Cas9 protein [Qi, L], along with co-expression of an RNA guide molecule, to repress expression of a number of genes in E. coli K-12 strains. This system has been used to silence expression of selected genes. This research should lead to a better understanding of gene function, as well as a general method to study pathogenic bacteria in their natural hosts.
Subject Categories
Collections