Comparison of the Cardiovascular Benefits of Resistance, Aerobic, and Combined Exercise (CardioRACE): Rationale, design, and methods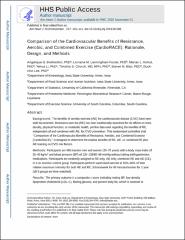 Authors
Lanningham-Foster, Lorraine
Department
Food Science and Human Nutrition
Kinesiology
Abstract
Background The benefits of aerobic exercise (AE) for cardiovascular disease (CVD) have been well documented. Resistance exercise (RE) has been traditionally examined for its effects on bone density, physical function, or metabolic health, yet few data exist regarding the benefits of RE, independent of and combined with AE, for CVD prevention. This randomized controlled trial, "Comparison of the Cardiovascular Benefits of Resistance, Aerobic, and Combined Exercise (CardioRACE)," is designed to determine the relative benefits of RE, AE, or combined RE plus AE training on CVD risk factors.
Methods Participants are 406 inactive men and women (35-70 years) with a body mass index of 25-40 kg/m2 and blood pressure (BP) of 120-139/80-89 mm Hg without taking antihypertensive medications. Participants are randomly assigned to RE only, AE only, combined RE and AE (CE), or a no exercise control group. Participants perform supervised exercise at 50%-80% of their relative maximum intensity for both AE and RE, 3 times a week for 60 minutes per session, for 1 year (all 3 groups are time matched).
Results The primary outcome is a composite z score including resting BP, low-density lipoprotein cholesterol (LDL-C), fasting glucose, and percent body fat, which is assessed at baseline, 6 months, and 12 months. Diet and outside physical activity are measured throughout the intervention for 1 year.
Conclusion CardioRACE (ClinicalTrials.gov NCT03069092) will fill an important knowledge gap regarding the effects of RE, alone or in addition to the well-documented effects of AE. CardioRACE will help generate more comprehensive and synergistic clinical and public health strategies to prevent CVD.
Comments
This accepted article is published as 94. Brellenthin AG, Lanningham-Foster LM, Kohut ML, Li Y, Church TS, Blair SN, Lee DC (corresponding author). Comparison of the cardiovascular benefits of resistance, aerobic, and combined exercise (CardioRACE): rationale, design, and methods. Am Heart J. 217(2019); 101-111. doi: 10.1016/j.ahj.2019.08.008. Posted with permission.
Subject Categories
Copyright
Mon Jan 01 00:00:00 UTC 2018
Collections