The Educational Experience of Native Americans at Iowa State: Past, Present, and Looking Into the Future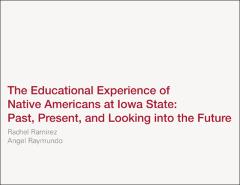 Series
Iowa State Conference on Race and Ethnicity (ISCORE)
The Iowa State Conference on Race and Ethnicity (ISCORE) is a comprehensive forum on issues of race and ethnicity at Iowa State University and beyond. The local conference is designed to model the National Conference on Race and Ethnicity in Higher Education (NCORE).
ISCORE seeks to bring the more salient ideas and concepts of the national conference to Iowa State University, add local perspectives, and
Develop and enhance ISU student, faculty, and staff awareness of racial and ethnic issues in higher education around the country.
Continue to promote addressing multiculturalism in the classroom and in American higher education.
Make information, regarding issues of race and ethnicity, accessible to the entire university community and support the university's ongoing efforts.
Abstract
Since its establishment in 1858, Iowa State University has played a significant role in the education of young Iowans. However, before the university even existed an education process was already in place by the various Native American tribes who originally called Iowa home. The purpose of this study is to inform the audience of the history of Native American education in the state of Iowa and at Iowa State University, what struggles Native Americans, including both students and staff, face at this university currently, and what we as fellow members of the Iowa State community can do to advocate for Native Americans on campus.
Subject Categories
Collections