Successful Use of Teams in a Human Computer Interaction REU: Combining Intensive Instruction with Strong Mentoring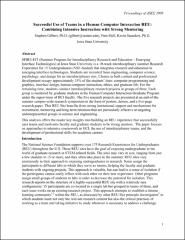 Department
Virtual Reality Applications Center
Psychology
Virtual Reality Applications Center
Abstract
SPIRE-EIT (Summer Program for Interdisciplinary Research and Education – Emerging Interface Technologies) at Iowa State University is a 10-week interdisciplinary summer Research Experience for 15 Undergraduates (NSF-funded) that integrates research and education in emerging interface technologies. Students are recruited from engineering, computer science, psychology, and design for an interdisciplinary mix. Classes in both content and professional development occupy approximately 35% of the students' time: computer programming and graphics, interface design, human computer interaction, ethics, and graduate life. For the remaining time, students conduct interdisciplinary research projects in groups of three. Each group is mentored by graduate students in the Human Computer Interaction Graduate Program under the supervision of HCI faculty. The five research projects are presented at an end-of-the summer campus-wide research symposium in the form of posters, demos, and a five-page research paper. This REU Site benefits from strong institutional support and mechanisms for recruitment, mentoring and long-term retention that are particularly effective at targeting underrepresented groups in science and engineering.
This analysis offers the reader key insights into building an REU experience that successfully uses teams and motivates faculty and graduate students to be strong mentors. The paper focuses on approaches to intensive coursework in HCI, the use of interdisciplinary teams, and the development of professional skills for academic careers.
Comments
This proceeding is published as Gilbert, Stephen, Pam Shill, and Kevin Saunders. "Successful Use of Teams in a Human Computer Interaction REU: Combining Intensive Instruction with Strong Mentoring." In Proceedings of the 2009 ASEE Annual Conference & Exposition. (2009): 14.1255.1 - 14.1255.15. DOI: 10.18260/1-2--5417. Posted with permission.
Subject Categories
Copyright
Thu Jan 01 00:00:00 UTC 2009
Collections