Can conservation complement agriculture?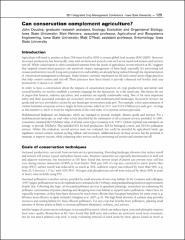 Altmetrics
Series
Proceedings of the Integrated Crop Management Conference
The Iowa State University Integrated Crop Management Conference is Iowa's premier crop production education event. No other program in Iowa brings together the diverse range of topics, slate of expert presenters and results of the latest University research.
The ICM Conference offers workshops focusing on the latest in crop production technology. Experts from Iowa and surrounding states will provide research updates and results in soil fertility, soil and water management, crop production and pest management.
Abstract
Agriculture will need to produce at least 70% more food by 2050 to ensure global food security (FAO 2009). However, increased productivity has historically come with on-farm and societal costs such as increased soil erosion and nutrient run-off. While conservation is often considered separate from the needs of agriculture, recent research at ISU suggests that targeted conservation practices can positively impact management of farm land, especially for preventing soil erosion and nutrient run-off.
Subject Categories
Collections