An Analysis of the 3D Sample Size Model Built by Individual Users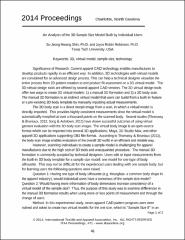 Series
International Textile and Apparel Association (ITAA) Annual Conference Proceedings
The first national meeting of textile and clothing professors took place in Madison, Wisconsin in June 1959. With a mission to advance excellence in education, scholarship and innovation, and their global applications, the International Textile and Apparel Association (ITAA) is a professional and educational association of scholars, educators, and students in the textile, apparel, and merchandising disciplines in higher education.
This site provides free, public access to the ITAA annual conference proceedings beginning in 2015. Previous proceedings can be found by following the "Additional ITAA Proceedings" link on the left sidebar of this page.
Abstract
Current apparel CAD technology enables manufactures to develop products rapidly in an efficient way. In addition, 3D technologies with virtual models are considered for an advanced design process. This can help a technical designer visualize the entire process from 2D pattern creation to end product fit assessment on a 3D virtual model. The 3D virtual design tools are offered by several apparel CAD vendors. The 3D virtual design tools offer two ways to create 3D virtual models: 1) a manual 3D formation and 2) a 3D body scan. The manual 3D formation is an indirect virtual model that users can build from a built-in feature or a pre-existing 3D body template by manually inputting actual measurements.
Subject Categories
Collections