The Extension of the Sixth Amendment Right to Effective Assistance of Counsel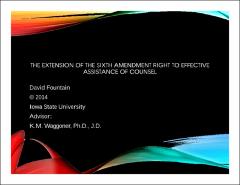 Series
Symposium on Undergraduate Research and Creative Expression
The Symposium provides undergraduates from all academic disciplines with an opportunity to share their research with the university community and other guests through conference-style oral presentations. The Symposium represents part of a larger effort of Iowa State University to enhance, support, and celebrate undergraduate research activity.
Though coordinated by the University Honors Program, all undergraduate students are eligible and encouraged to participate in the Symposium. Undergraduates conducting research but not yet ready to present their work are encouraged to attend the Symposium to learn about the presentation process and students not currently involved in research are encouraged to attend the Symposium to learn about the broad range of undergraduate research activities that are taking place at ISU.
The first Symposium was held in April 2007. The 39 students who presented research and their mentors collectively represented all of ISU's Colleges: Agriculture and Life Sciences, Business, Design, Engineering, Human Sciences, Liberal Arts and Sciences, Veterinary Medicine, and the Graduate College. The event has grown to regularly include more than 100 students presenting on topics that span the broad range of disciplines studied at ISU.
Abstract
The Sixth Amendment guarantees the right of a defendant to be represented by counsel, most importantly to have effective assistance of counsel. Evolving for nearly a century, the current state of the Sixth Amendment is a result of a historic and longstanding relationship that the Court has maintained with the Sixth Amendment resembling a tug-of-war of sorts, a back and forth that is arguably still going strong. Throughout this history the Court has refined what rights the Sixth Amendment entails as well as to what extent these rights should be provided. In accordance with Argersinger v. Hamlin, regarding the deprivation of liberty, indigents must be provided counsel if any form of jail time could result from a criminal proceeding. It will be argued that the Court has left open the possibility for future cases to arise in regards to the deprivation of property and importantly, it will be argued based on the evolution of the Sixth Amendment that such cases will lead the Court to extend this right to indigents facing penalties in the form of a fine.
Subject Categories
Collections