Exploring a Process: Using Technology to Define Firefighter Glove Fit Preference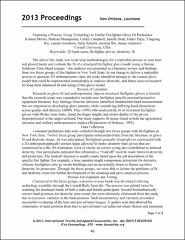 Series
International Textile and Apparel Association (ITAA) Annual Conference Proceedings
The first national meeting of textile and clothing professors took place in Madison, Wisconsin in June 1959. With a mission to advance excellence in education, scholarship and innovation, and their global applications, the International Textile and Apparel Association (ITAA) is a professional and educational association of scholars, educators, and students in the textile, apparel, and merchandising disciplines in higher education.
This site provides free, public access to the ITAA annual conference proceedings beginning in 2015. Previous proceedings can be found by following the "Additional ITAA Proceedings" link on the left sidebar of this page.
Abstract
The aim of this study was to develop methodologies for a replicable process to scan bare and gloved hands and evaluate the fit of a structural firefighter glove model using a Human Solutions Vitus Head scanner. Our analysis was grounded in a literature review and findings from two focus groups of fire fighters in New York State. In our charge to deliver a replicable process to generate 3D anthropometric data, the study identified changes to the current glove model that could be implemented immediately to improve dexterity, and future areas to research for long-term enhanced fit and sizing of this glove model.
Subject Categories
Collections