Yerba Mate in Argentina: A Cultural Reflection and Projection through a Popular Pastime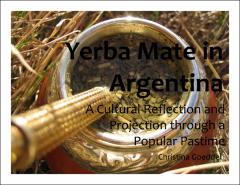 Series
Symposium on Undergraduate Research and Creative Expression
The Symposium provides undergraduates from all academic disciplines with an opportunity to share their research with the university community and other guests through conference-style oral presentations. The Symposium represents part of a larger effort of Iowa State University to enhance, support, and celebrate undergraduate research activity.
Though coordinated by the University Honors Program, all undergraduate students are eligible and encouraged to participate in the Symposium. Undergraduates conducting research but not yet ready to present their work are encouraged to attend the Symposium to learn about the presentation process and students not currently involved in research are encouraged to attend the Symposium to learn about the broad range of undergraduate research activities that are taking place at ISU.
The first Symposium was held in April 2007. The 39 students who presented research and their mentors collectively represented all of ISU's Colleges: Agriculture and Life Sciences, Business, Design, Engineering, Human Sciences, Liberal Arts and Sciences, Veterinary Medicine, and the Graduate College. The event has grown to regularly include more than 100 students presenting on topics that span the broad range of disciplines studied at ISU.
Department
World Languages and Cultures
Abstract
Yerba mate is a popular tea-like beverage widely consumed in many South American countries, including Paraguay, Brazil, and Argentina. Originally discovered and consumed by Paraguayan natives, mass production of yerba mate did not begin until the arrival of the Spanish in the sixteenth century. Its cultivation techniques developed over time, allowing production to spread to other countries including Argentina, today´s largest producer of yerba mate. In Argentina, yerba mate has evolved from simply being a stimulating beverage into a clear reflection of the country's culture and values. The uses of yerba mate in Argentine literature – Jorge Luis Borges, Julio Cortázar, tango lyrics – demonstrate the beverage's importance to everyday life and societal norms. Further connections between yerba and Argentine culture include straw-sharing with tactile communication, appetite-suppression with high beauty standards, and caffeine content with busy city life and laborious country work. These ideas are explored in this paper in order to assert that yerba mate's own qualities project key aspects of Argentine culture, solidifying its continued popularity for years to come.
Subject Categories
Collections