Analysis of College Girls and Fashion Proportion in Mademoiselle, 1960-1974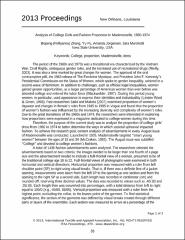 Authors
Zhang, Bopeng (Pollyanna)
Series
International Textile and Apparel Association (ITAA) Annual Conference Proceedings
The first national meeting of textile and clothing professors took place in Madison, Wisconsin in June 1959. With a mission to advance excellence in education, scholarship and innovation, and their global applications, the International Textile and Apparel Association (ITAA) is a professional and educational association of scholars, educators, and students in the textile, apparel, and merchandising disciplines in higher education.
This site provides free, public access to the ITAA annual conference proceedings beginning in 2015. Previous proceedings can be found by following the "Additional ITAA Proceedings" link on the left sidebar of this page.
Abstract
The period of the 1960s and 1970s was a transitional era characterized by the Vietnam War, Civil Rights, ambiguous gender roles, and the increased use of recreational drugs (Rielly, 2003). It was also a time marked by great changes for women. The approval of the oral contraceptive pill, the 1963 release of The Feminine Mystique, and President John F. Kennedy's Presidential Commission on the Status of Women, which spoke to gender inequality, ushered in a second-wave of feminism.
Subject Categories
Collections