Issues and Trends in Cross-border E-commerce in Korea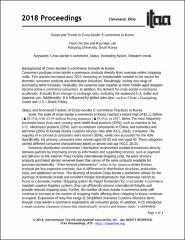 Series
International Textile and Apparel Association (ITAA) Annual Conference Proceedings
The first national meeting of textile and clothing professors took place in Madison, Wisconsin in June 1959. With a mission to advance excellence in education, scholarship and innovation, and their global applications, the International Textile and Apparel Association (ITAA) is a professional and educational association of scholars, educators, and students in the textile, apparel, and merchandising disciplines in higher education.
This site provides free, public access to the ITAA annual conference proceedings beginning in 2015. Previous proceedings can be found by following the "Additional ITAA Proceedings" link on the left sidebar of this page.
Abstract
Consumers purchase cross-border e-commerce products directly from overseas online shopping malls. An increase in the popularity of cross-border e-commerce means that smart consumption trends revolutionized the consumption process. The scale of cross-border e-commerce in Korea reached a record high in 2017. Existing literature suggests that the sharp increase is due to price, product diversity, efficient shipping, expansion of duty-free range and hedonic motivation. A semantic network analysis revealed three main clusters in relationships between cross-border e-commerce research subjects: consumer, country and process.
Subject Categories
Collections