Economic analysis of row cover insect exclusion for cucurbit crops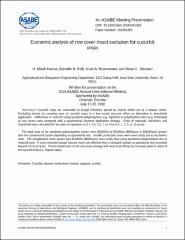 Department
Agricultural and Biosystems Engineering
Abstract
Cucurbit crops are vulnerable to fungal infections spread by insects which act as a disease vector. Excluding insects by covering rows of cucurbit crops in a low tunnel structure offers an alternative to insecticide application. Differences in costs for using spunbond polypropylene (e.g. Agribon) or polyethylene mesh (e.g. Proteknet) as row covers were compared with a conventional chemical application strategy. Costs of materials, machinery, and insecticide were calculated for ten years of operation on 0.2, 0.4, 0.8, 2, or 4 ha (0.5, 1, 2, 5, or 10 acres).
The total costs of the spunbond polypropylene system were $1620/ha to $5290/ha ($650/acre to $2140/acre) greater than the conventional system depending on operational size. Smaller production areas were more costly due to machinery costs. The polyethylene mesh system was $1500/ha ($600/acre) more costly than using spunbond polypropylene due to material costs. A truck-mounted sprayer became more cost effective than a backpack sprayer as operational size increased beyond 0.8 ha (2 acre). The increased costs of the row cover strategy will need to be off-set by increased yield or value of the cucurbit crop (i.e. organic sales).
Comments
This paper is from 2016 ASABE Annual International Meeting, Paper No. 162461363, pages 1-7 (doi: 10.13031/aim.20162461363). St. Joseph, Mich.: ASABE. Posted with permission.
Subject Categories
Copyright
Fri Jan 01 00:00:00 UTC 2016
Collections