Review of "A Primer of Ecological Statistics"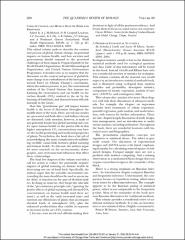 Abstract
Ecological statistics usually refers to the distinctive statistical methods used for ecological questions and data. Little of that information will be found in this book. Instead, Gotelli and Ellison have written a wonderful overview of statistics for ecologists. This volume contains all the material one would expect in an introductory statistical methods book, and is illustrated using ecological data: random variables and probability, descriptive statistics, comparison of means, regression, analysis of variance (ANOVA), and contingency tables.
Comments
This is a book review from The Quarterly Review of Biology 80 (2005): 260, doi:10.1086/433126. Posted with permission.
Subject Categories
Copyright
Sat Jan 01 00:00:00 UTC 2005
Collections