Tech Pack Exchange: How well can you communicate if you are not there?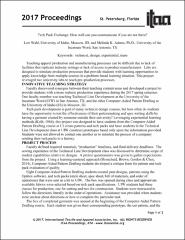 Series
International Textile and Apparel Association (ITAA) Annual Conference Proceedings
The first national meeting of textile and clothing professors took place in Madison, Wisconsin in June 1959. With a mission to advance excellence in education, scholarship and innovation, and their global applications, the International Textile and Apparel Association (ITAA) is a professional and educational association of scholars, educators, and students in the textile, apparel, and merchandising disciplines in higher education.
This site provides free, public access to the ITAA annual conference proceedings beginning in 2015. Previous proceedings can be found by following the "Additional ITAA Proceedings" link on the left sidebar of this page.
Abstract
Teaching apparel production and manufacturing processes can be difficult due to lack of facilities that replicate industry settings or lack of access to product manufacturers. Labs are designed to simulate production processes that provide students with learning opportunities to apply knowledge from multiple courses in a problem-based learning situation. This project leveraged two university labs in geographically dispersed locations to teach pre–production processes. This learning simulation, allowed students to discover why clear communication tools and detail sketches that duplicated and supported the Order of Operation were important. Students extrapolated how attention to detail in tech pack materials impacted communication with factories whose first language may not be English and in a time zone that would not allow easy communication, as well as the importance of determining adequate factory experience. Students from UI and UIW agreed reciprocating the packet exchange and prototype construction would add to the simulated learning experience.
Subject Categories
Collections