Key Resources of the Indian Apparel Export Firms as Described by Firm Managers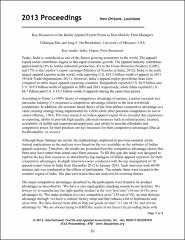 Series
International Textile and Apparel Association (ITAA) Annual Conference Proceedings
The first national meeting of textile and clothing professors took place in Madison, Wisconsin in June 1959. With a mission to advance excellence in education, scholarship and innovation, and their global applications, the International Textile and Apparel Association (ITAA) is a professional and educational association of scholars, educators, and students in the textile, apparel, and merchandising disciplines in higher education.
This site provides free, public access to the ITAA annual conference proceedings beginning in 2015. Previous proceedings can be found by following the "Additional ITAA Proceedings" link on the left sidebar of this page.
Abstract
Today, India is considered as one of the fastest growing economies in the world. The apparel export sector contributes hugely to this rapid economic growth. The apparel industry contributes approximately14% to Indian industrial production, 4% to the Gross Domestic Products (GDP), and 17% to the country's export earnings (Ministry of Textiles in India, 2012). India is the sixth largest apparel exporter in the world, with exporting U.S. $14.5 billion worth of apparel in 2011 (World Trade Organization, 2013).
Subject Categories
Collections