Research Notes : United States : Genetics of reaction to soybean mosaic virus (SMV) in cultivars exhibiting differential reaction to SMV strains.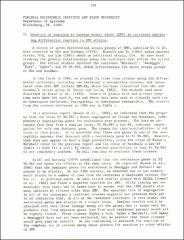 Department
Iowa State University Digital Repository
Abstract
A series of seven differential strain groups of SMV, labelled Gl to G7, were reported by Cho and Goodman (1979). Buzzell and Tu (1984) added another strain, G7A, and Lim (1985) added an additional strain, Cl4. We have been studying the genetic relationships among the cultivars that define the strain groups. Our intial studies involved the cultivars 'Marshall', 'Kwanggyo', 'York', 'Ogden', and PI 96.983, which differentiate the seven strain groups of Cho and Goodman.
Subject Categories
Collections