Quantitative analysis of a class of subsurface cracks using shearography and finite element modeling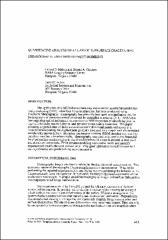 Series
Review of Progress in Quantitative Nondestructive Evaluation
Begun in 1973, the Review of Progress in Quantitative Nondestructive Evaluation (QNDE) is the premier international NDE meeting designed to provide an interface between research and early engineering through the presentation of current ideas and results focused on facilitating a rapid transfer to engineering development.
This site provides free, public access to papers presented at the annual QNDE conference between 1983 and 1999, and abstracts for papers presented at the conference since 2001.
Abstract
The application of a full field non-contacting measurement system for nondestructively evaluating (NDE) subsurface flaws in structures has been conducted using Electronic Shearography. Shearography has primarily been used as a qualitative tool for locating areas of stress concentration caused by anomalies in materials[1–4]. NASA has been applying optical techniques such as these to NDE inspection of aircraft lap joint integrity, composite material defects, and pressure vessel quality assurance. This paper examines a special class of defects manufactured in thin metal panels and serves as a testbed for interpreting the displacement gradients produced on a simple well-characterized sample with known defects. Electrode discharge machining (EDM) notches were cut into panels to simulate subsurface cracks. Shearography was used to determine the detectability of subsurface cracks ranging in size from 0.8 mm to 25.4 mm fabricated in both steel and aluminum test panels. Finite element modeling was used to verify and quantify experimental results obtained in these tests. Very good agreement existed between both the experimental and predicted displacement models.
Subject Categories
Copyright
Fri Jan 01 00:00:00 UTC 1993
Collections