Performance evaluation, economic analysis and improvement recommendations for a batch drying chamber system at the ISU Agricultural Engineering and Agronomy Research Farm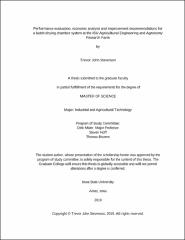 Department
Agricultural and Biosystems Engineering
Abstract
The Iowa State University Agricultural Engineering and Agronomy Research Farm operates a system of 24 drying chambers to dry soil and plant materials. The system is in need of updating due to the current system becoming outdated. The current boiler utilizes hot water heat exchangers controlled with pneumatic valves that control the temperature in each drying chamber. It was evaluated to operate at a maximum 29,880 Btu/h heat capacity and 83.2% heating efficiency. Alternatives for the boiler-based system are electro-mechanical control of the heat exchangers and replacing the boiler-based system with electric heat exchangers with thermostat control at each chamber. Those were tested and resulted in maximum heat outputs of 24,113 and 27,009 BTU/h with efficiencies of 86.0% and 82.3%, respectively. Pneumatic control depends on a regulated constant air supply while the electro-mechanical and electric heat exchangers are controlled electronically. This allows for more precise control of the chamber operating temperature. The electronic controls also allow for monitoring of each drying chamber and data collection with minimal additional equipment.
Each drying chamber holds four roll-away carts that are loaded with material to be dried. It was determined that drying carts initially operated with an airflow uniformity index of 0.892. Combinations of a duct register and orientation of the drying carts were tested. The uniformity index increased to 0.959 utilizing the duct register and with or without the orientation of outlet fans on the drying carts in the center of the chamber. Airflow uniformity across all heating and control alternatives was between 0.983-0.996 after additional trials utilizing a duct register, installing ducting to direct ambient air coming in and air to be exhausted out of the chamber, and reversing the drying cart fans to pull air down through the carts rather than force air up through them.
A 25-year economic analysis found the electric heat exchanger had the highest annual operating cost at $24,540 with the pneumatic and electro-mechanical controlled boiler alternatives costing $9,010 and $8,790 to operate, respectively. The electric heat exchanger also had the highest net present cost at $216,913, compared to the pneumatic flow control at $151,034 and the electro-mechanical control at $154,612. A reduced cost electric heat exchanger was evaluated and had a net present cost of $195,357 or 9.9% lower than the initial electric heat exchanger and more cost-competitive with the two boiler alternatives.
Subject Categories
Copyright
Thu Aug 01 00:00:00 UTC 2019
Collections