Analysis of Acoustic Emission Output from Propagating Fatigue Crack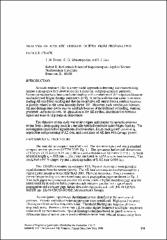 Series
Review of Progress in Quantitative Nondestructive Evaluation
Begun in 1973, the Review of Progress in Quantitative Nondestructive Evaluation (QNDE) is the premier international NDE meeting designed to provide an interface between research and early engineering through the presentation of current ideas and results focused on facilitating a rapid transfer to engineering development.
This site provides free, public access to papers presented at the annual QNDE conference between 1983 and 1999, and abstracts for papers presented at the conference since 2001.
Abstract
Acoustic emission (AE) is a very useful approach in detecting and characterizing fatigue damage growth in general and crack initiation and propagation in particular. Numerous studies have been conducted dealing with correlations of AE output and fracture mechanics and fatigue damage parameters [1–9]. It has been shown that under monotonie loading AE can detect yielding and that the cumulative AE output from a notched specimen is directly related to the stress intensity factor [10]. However, such correlations between AE and damage may not be easy to establish because of the influence of loading, material, geometric and noise factors. In application of the AE method, discrimination between signal and noise is of paramount importance.
Subject Categories
Copyright
Thu Jan 01 00:00:00 UTC 1998
Collections