Wave Speed Propagation Measurements on Highly Attenuative Wax at Elevated Temperatures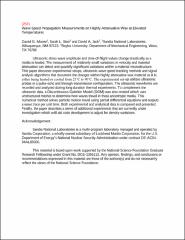 Series
Review of Progress in Quantitative Nondestructive Evaluation
Begun in 1973, the Review of Progress in Quantitative Nondestructive Evaluation (QNDE) is the premier international NDE meeting designed to provide an interface between research and early engineering through the presentation of current ideas and results focused on facilitating a rapid transfer to engineering development.
This site provides free, public access to papers presented at the annual QNDE conference between 1983 and 1999, and abstracts for papers presented at the conference since 2001.
Abstract
Ultrasonic stress wave amplitude and time-of-flight values change drastically as a media is heated. The measurement of relatively small variations in velocity and material attenuation can detect and quantify significant variations within a material microstructure. This paper discusses experimental setups, ultrasonic wave speed tracking methods and signal analysis algorithms that document the changes within highly attenuative wax material as it is either being heated or cooled from 25˚C to 90˚C. The experimental set-up utilizes ultrasonic probes in a pulse-echo and through-transmission configuration. The ultrasonic waveforms are recorded and analyzed during long duration thermal experiments. To complement the ultrasonic data, a Discontinuous-Galerkin Model (DGM) was also created which uses unstructured meshes to determine how waves travel in these anisotropic media. This numerical method solves particle motion travel using partial differential equations and outputs a wave trace per unit time. Both experimental and analytical data is compared and presented. Finally, the paper describes a series of additional experiments that are currently under investigation which will aid code development to adjust for density variations.
Collections