Formative Principles of Korean Traditional Costume(Hanbok) Configuration and the Fractal Geometry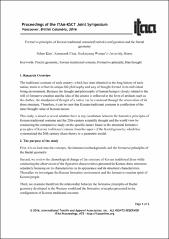 Series
International Textile and Apparel Association (ITAA) Annual Conference Proceedings
The first national meeting of textile and clothing professors took place in Madison, Wisconsin in June 1959. With a mission to advance excellence in education, scholarship and innovation, and their global applications, the International Textile and Apparel Association (ITAA) is a professional and educational association of scholars, educators, and students in the textile, apparel, and merchandising disciplines in higher education.
This site provides free, public access to the ITAA annual conference proceedings beginning in 2015. Previous proceedings can be found by following the "Additional ITAA Proceedings" link on the left sidebar of this page.
Abstract
This study is aimed to reveal whether there is any correlation between the formative principles of Korean traditional costume and the 20th-century scientific thought and the world view by conducting the comparative study on the specific nature found in the structural formative principles of Korean traditional costume from the aspect of the fractal geometry which has systematized the 20th century chaos theory to a geometric model.
Collections