Ultrasound Generation in Composites via Embedded Optical Fibers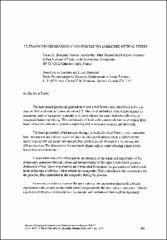 Series
Review of Progress in Quantitative Nondestructive Evaluation
Begun in 1973, the Review of Progress in Quantitative Nondestructive Evaluation (QNDE) is the premier international NDE meeting designed to provide an interface between research and early engineering through the presentation of current ideas and results focused on facilitating a rapid transfer to engineering development.
This site provides free, public access to papers presented at the annual QNDE conference between 1983 and 1999, and abstracts for papers presented at the conference since 2001.
Abstract
The laser based ultrasound generation is now a well known and established technique used in NDE and material characterization [1]. The use of embedded optical fiber sensors in structures made of composite materials is of great interest for smart structures allowing an integrated health monitoring. The combination of both techniques could lead to an optical fiber based ultrasonic embedded system comprising both ultrasounds sources and detectors.
Subject Categories
Copyright
Thu Jan 01 00:00:00 UTC 1998
Collections