Faculty perceptions regarding the infusion of global perspectives into the College of Agriculture and Life Sciences curriculum: A comparative study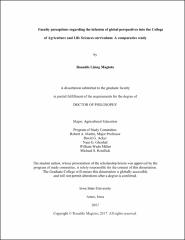 Altmetrics
Department
Agricultural Education and Studies
Abstract
A comparative study was conducted to explore faculty perceptions regarding the infusion of global perspectives into the College of Agriculture and Life Sciences (CALS) curriculum at Iowa State University. King (1991) provided the original base for the study which enabled a comparison with data recently collected. This study may fill a void in the literature published in the context of the CALS faculty members' perceptions in infusing a global perspective into the curriculum over the periods covered. The gap between the original and current study may reveal a possible new mindset and trend in the perceived benefits and barriers of infusing global perspectives into the curriculum.
An online survey using Qualtrics was used to collect data. The survey material was comprised of five parts: perception statements, critical content/topics, activities used to add global perspectives, opinions on the infusion of global perspectives and demographic information. Descriptive and inferential analyses were used to compare the data collected. Significant differences were found in the demographic and occupational information of gender, age and primary workload. There were also significant differences in students' activities used to add international perspectives, comparative reasons for the departmental curriculum problems, and activities for curriculum improvement. Four of the 16 identified perception statements and 10 of the 48 identified critical content/topics were found to be statistically different in the two years that were compared. ANOVA results for both perception statements and the critical content/topics were significantly different on the identified races in the 1991 study but not on the 2016 study.
Even after 25 years, the perceptions of CALS faculty members regarding the infusion of global perspectives has remained the same on majority of the statements for internationalization and perceived critical topics to be taught from a global perspectives.
Subject Categories
Copyright
Sun Jan 01 00:00:00 UTC 2017
Collections